Is it possible to reflect on circular bioeconomy and create bioproducts by playing games? Gamification allows reflection on real problems in fictitious scenarios and makes it possible to create tangible solutions. HOOP partner Science for Change has developed HOOP Trainers, a digital tool for the optimisation of the separation of the Organic Fraction of Municipal Solid Waste (OFMSW) in each of the 8 HOOP Lighthouse cities and regions.
On average, Europeans throw away 200 kg of biowaste per year, and 75% of this is landfilled or incinerated. Against this backdrop, since 2020, the HOOP project has been supporting 8 European cities and regions in the development of large-scale urban circular bioeconomy initiatives that recover valuable resources from urban biowaste and wastewater to make bio-based products. A key element to achieve this challenge are Biowaste Clubs (BC), open spaces in which stakeholders regularly exchange and develop a shared vision for how their city can become more circular.
To support these exchanges, Science for Change is carrying out citizen science activities to co-design an optimal selective collection of the OFMSW and, in turn, raise awareness among citizens in HOOP Lighthouses. All the data obtained through the app will contribute to discussions in the BCs to convert it into co-created recommendations.
Play is an integral part of human interactions, and helps people understand each other, and can shape new solutions by tapping into collective intelligence. For this reason, the project has launched the HOOP Trainers app that uses gamification and citizen science to gather data for HOOP activities. The users' decisions during the HOOP Trainers missions will allow us to better understand citizen's perception in the region about biowaste separation, acceptance of products made from them and their proposals to construct a greener and more circular region.
Co-designing the game
To design and develop HOOP Trainers ad hoc versions for each lighthouse, co-design sessions were held with representatives from each city to align their local circular bioeconomy challenges with the potential of citizen science. The sessions were useful to identify waste selection challenges, the data needed to address them and strategies to involve citizens in the process of data collection and/or analysis.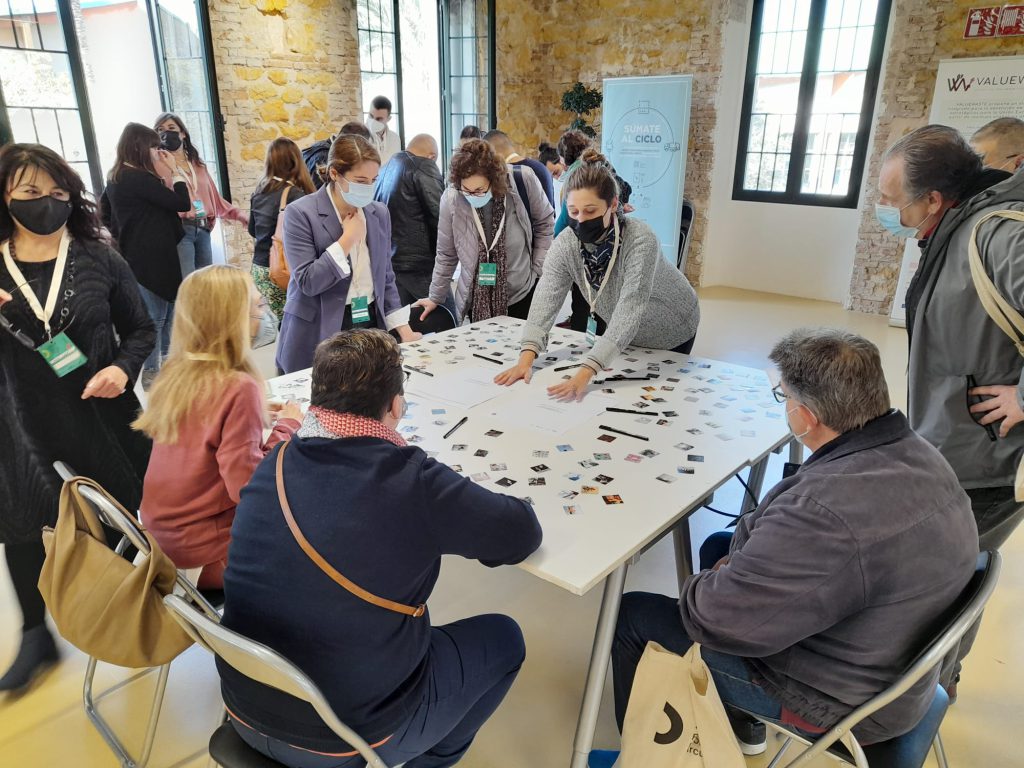 Each lighthouse has its own game adaptation but shares a common goal: train Dubiop to turn organic waste into useful bioproducts by completing three missions. When Dubiop learns how to give a new life to waste, it transforms into Cirklop, a creature that is able to build a more sustainable city.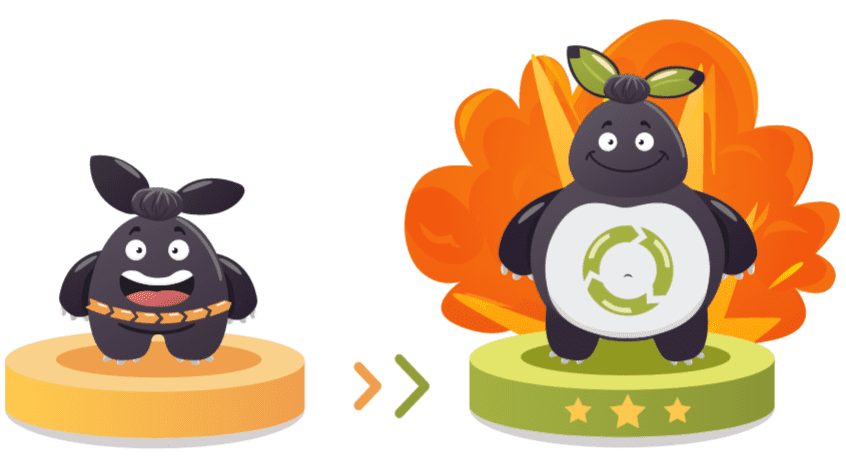 Dubiop symbolises a city that prescribes to a linear production and consumption model: Extracting raw materials to manufacture new products for consumption and disposing of them by landfill or incineration after use. This generates high levels of pollution generating large amounts of waste (2153 million tonnes in 2020) and depletes natural resources due to its continuous extraction .
The goal of the game is to transform Dubiop to Cirklop, representing a green and circular city that reduces, recycles, reuses, repairs and recovers the waste it generates. In this way, it gives new life to the waste it produces so that it can be reused in many different ways, avoids waste related pollution and emissions, and reduces pressure on natural resources.
During the game, Dubiop gets a better understanding of what is needed to advance towards circular bioeconomy by listening to the opinions of its neighbours. We want HOOP Trainers to be just the start of a collaborative online and offline exercise to address circularity challenges.

Mar Escarrabill, community engagement specialist in Science for Change and HOOP Project Manager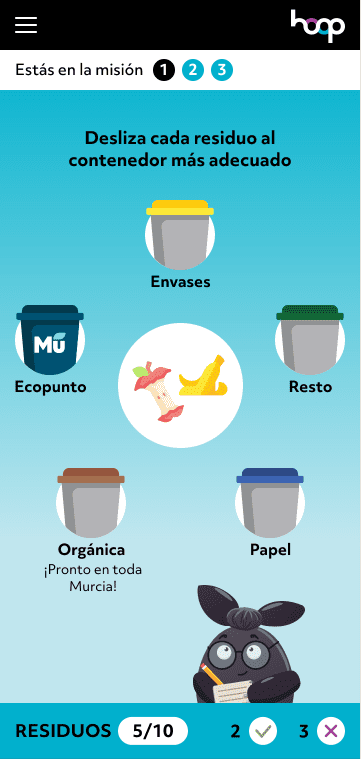 In playing the game, users actions and responses will provide insights into their perceptions that will be analysed and discussed in Biowaste Clubs of each of the HOOP Lighthouse cities in 2023. This platform to exchange ideas on circular bioeconomy will allow citizens, the scientific community, public decision-makers and private sector agents to work together to transform the data obtained into useful strategies to co-create more circular cities.
If you live in any of our Lighthouses (Albano-Lazio, Almere, Bergen, Greater Porto, Kuopio, Münster, Murcia, Western Macedonia) and, you can contact us for more information on how to participate at mar.escarrabill@scienceforchange.eu.