HOOP is bringing the urban circular bioeconomy closer to European cities and regions through its Lunch Talks. These monthly 30 minutes exchanges are a series of webinars designed for HOOP Lighthouses and HOOP members to share their experience and gather feedback from other public authorities and waste management companies that are also striving to become more circular.
Each talk involves an expert from the HOOP team, who shares information and practical solutions with the members of the Network. The series covers a wide range of topics, such as technologies developed by the Lighthouses to recover valuable resources from biowaste to make bio-based products; strategies to promote citizen awareness and engagement in the circular economy; and tips to understand how investors and financiers address the development of the urban circular bioeconomy projects.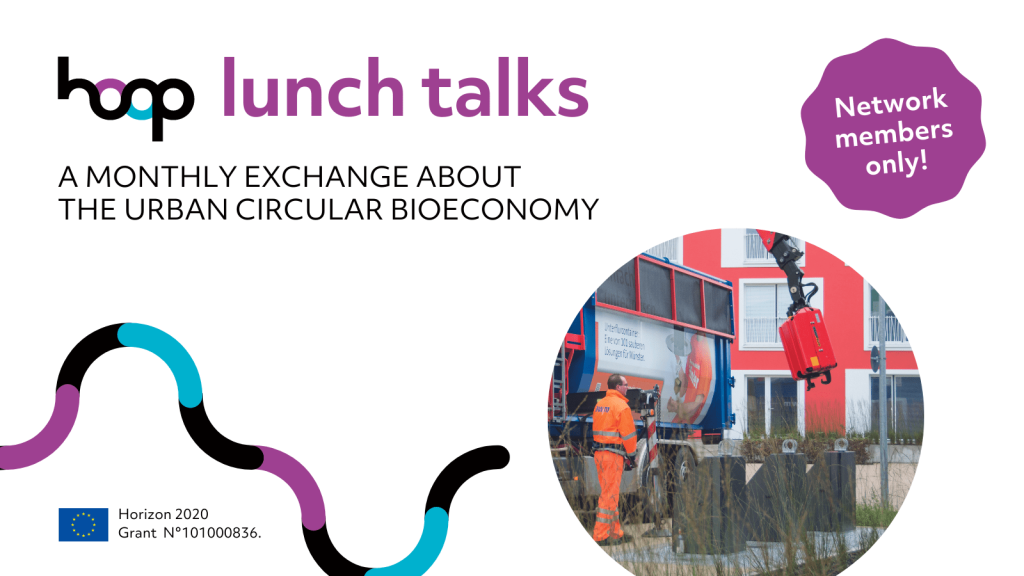 The series has proven to be a success among the Network members, with a high participation and positive feedback following the first episodes. Now it's up to participants to put in practice this valuable information in their own cities and regions, spreading good circular bioeconomy practices across Europe.
These events are exclusive to members of the HOOP Network of Cities and Regions, click here to join the network and get access to all the services reserved to the HOOP members! Discover more about the past episodes:
HOOP Lunch Talks – Episode I: HOOP Technologies to Foster Bioeconomy in your City
HOOP Lunch Talks – Episode II: Engaging citizens in food waste collection
HOOP Lunch Talks – Episode III: The investor perspective of urban circular bioeconomy projects
HOOP Lunch Talks – Episode IV: Circular Business Models (CBMs) applied in the Value Chain of Biowaste Valorisation