Asturias is a region located in the northwest of Spain, recognisable for its coastal cliffs and its rugged mountains, a soft climate and beautiful landscapes. Asturias is one of the pioneer regions in waste treatment and electricity production by landfill biogas recovery in the country. COGERSA is the public consortium for waste management in Asturias, constituted by the Government of the region (20%) and its 78 municipal councils (80%). They have a unique 400-hectares waste management centre with three landfills for non-hazardous, hazardous, and inert waste, four sorting plants, two composting plants, one anaerobic digestion plant, one waste-to-energy facility, and four treatment plants.
COGERSA's infrastructure has allowed to manage 895.111 tons of waste in 2019 including municipal, industrial, construction and demolition, and waste of electrical and electronical equipment producers. Of these, 365.414 tons were treated for recovery, generating above 40 million €/year, 203 direct employees, 200.000 participants in environmental campaigns and more than 38 GWh/year of electricity production by biogas and waste-to-energy, which translates into enough energy to supply electricity for 10.000 homes.
In 2003 COGERSA, commissioned the composting plant for green waste and selected manures (20.000 tons per year), which produced 2.044 tons of successful ecolabelled compost in 2019. In addition, they started the composting of sewage sludge to produce a good-quality compost and they commissioned the anaerobic digestion plant for separately collected biowaste from municipalities of Asturias. Wood and furniture waste is another important stream of organic residues, traditionally recovered for recycling or energy purposes. End-o-sludg, AsturSludge, Valorastur and Sludge4biomass were some of the R&D projects in which CORGESA participated to recover sewage sludge from a circular and low-carbon economy perspective.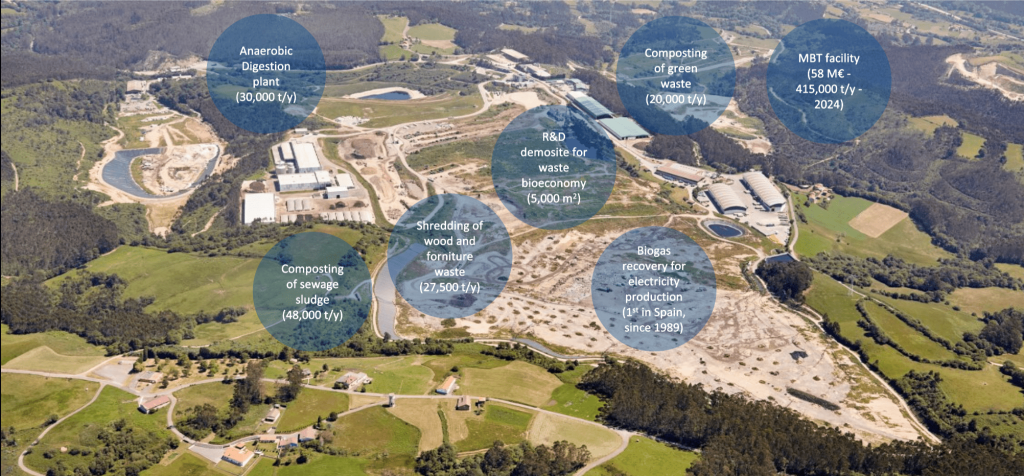 These impressive numbers have upgrade significantly COGERSA's capacity in the last few years and current R&D activities are focused on low carbon and circular bioeconomy projects. For example, they participate in ReCO2very and Landfill4Health projects, aimed at producing renewable microalgae biomass by recovery of combustion gases from clinical waste incineration or biogas, as well as recovery of wastewater and disused landfill areas for cultivation. They also recover landfill leachate and digestate for biomethane through Life infusion project.
Unfortunately, 68% of municipal waste is still mixed and devoted to landfill. To revert this trend, COGERSA fosters sensibilisation campaigns on waste prevention and promotion of separate collection. They are working on a new 58 million €-plant for municipal mixed waste (MMW). This new mechanical and biological treatment (MBT) will be commissioned by the end of 2023 to treat up to 415,000 tons per year. It is expected to recover up to 56,523 tons per year of biostabilised biowaste and 47,938 tons of paper and cardboard; as well as more than 130,000 t/year of solid recovered fuel (SRF) and some 27,600 tons of materials for recycling (plastics, metals, glass, etc.).
CORGESA's actions to boost circular bioeconomy in Asturias constitute an inspiring benchmark for all the HOOP network of cities and regions, as its pioneer and successful past has evolved into a busy present and a challenging future. Furthermore, these actions can be adapted and replicated in many other cities and regions all over Europe, by joining the HOOP network and sharing experiences with all its members.